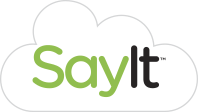 You'll love how easy it is to voice-power your workflow with us.
Get leading-edge speech technology that's accurate with the security, mobility and medical vocabulary you need.
ACCURATE
Deep Learning (DL) powered by Artificial Intelligence (AI)
AFFORDABLE
Light weight and low cost - no integration required
SIMPLE
Speech without the need for speech expertise
MOBILE
One Account has access to multiple devices
---
Replace KEYSTROKES with voice, and voila! Bottom line grows.
You'll love to dictate right into the EHR
NO INTEGRATION REQUIRED
We support all EHRs and all medical specialties.
Our meticulous medical dictionary ensures we'll recognize even the most unusual terms.
You. Have. Options.
Don't let anyone tell you there's only one speech recognition product that works with your EHR. Not true!
REQUEST A NO-OBLIGATION TRIAL
[my-image-map]
[my-image-map]
You'll love how nVoq understands ...
YOUR ENGLISH
!
Accent-u-ate the positive.
Whether you hail from Boston, Bombay, or anywhere in between, SayIt understands YOU.
REQUEST A TRIAL
You'll love how our Shortcut Designer helps
SLASH DOCUMENTATION TIME

Learn More!

STILL HAVE SOME DOCTORS DEMANDING A MEDICAL TRANSCRIPTION OPTION?
---
Yes, your providers can have their cake and eat it, too.
Let nVoq and its certified partners deliver a cost-effective, full-service solution tailored for your needs.
Talk to Us!
You'll love how the nVoq platform is…
ENTERPRISE READY
Built to scale with your organization.
Hosted securely in the cloud.
Complies with US HIPAA and Canadian privacy requirements.
PCI-DSS compliant
Works amazingly well with virtualized desktops.
Integrates with SSO environments.
We've built our platform from the ground up with the very latest/greatest technology available, leveraging leading-edge developments from around the world.
And we keep making it better all the time, because we can.
CONCERNED ABOUT IT SUPPORT?
WE'RE EVERYTHING FRIENDLY (THAT MEANS IT FRIENDLY, TOO)
No need for dedicated IT resources
No desktop installs required
Configure once – deploy to many in seconds
Easy troubleshooting via our FREE Administrative Console
Seamless updates with no downtime!
IT departments around the world love nVoq. Yours will, too.
You'll love how the nVoq platform is…
JUST EASIER

Easier to use (less to learn! designed to work the way you work)
Easier to implement (no software or servers to install)
Easier to manage (track progress remotely, no need to visit the desktop!)
Easier to try (quick setup, no obligation)
Easier to scale (add new users in seconds, with capacity for mega-growth)
Easier business terms (flexible contracts, avoid the hassle of a long term commitment)
You'll love how the nVoq platform is…
SUPER SONIC FAST AND RELIABLE
The nVoq platform is designed

and optimized to work in the cloud. You don't need to install software locally to "improve recognition" or enhance system performance. Desktop computer down? – just hop to another.
Our system uptime is pretty darn great. Show me.
SayIt System and Microphone Requirements
Microsoft® Windows 7, 8x, or 10, and

MacOS Catalina

Approved microphone and sound card (See the SayIt Audio Guide)
CPU: Intel-compatible 1.6 GHz+ Processor
RAM: 600 MB Runtime
Disk Space: 500 MB
Internet access and adequate bandwidth
64-bit Java Runtime Environment (JRE) 1.8+
Internet access and adequate bandwidth
You're going to need the following bandwidth:
Internet Bandwidth: 64 Kbps per user when dictating
Peak Bandwidth/30 users: 1.9 Mbps
Average Bandwidth/30 users: .4 Mbps
See if your system is compatible!
WHAT KIND OF MICROPHONE IS NEEDED?
SayIt is designed to work with all popular dictation hand held mics, high quality noise cancelling headsets and boom microphones, and with the iPhone or Android smart phones.
List of compatible microphones
You'll love how the nVoq platform…
WORKS WHEREVER YOU WORK
No profiles to sync. Nothing to install. Nothing to get corrupted.

Start on your PC at the clinic.

Continue at the hospital.

Finish on your MAC at home.
The coolest part: No additional fee per device. (How much will this save you?)
You'll love how the nVoq platform is…
BUDGET FRIENDLY
See immediate return on your investment Day 1.
Here's how:
☑ It just works (minimal onboarding time)
☑ It doesn't need dedicated equipment
☑ It doesn't require any maintenance
☑ It reduces – or eliminates – transcription costs
☑ It's priced simply and affordably
(no hidden costs, and no nickel and dime)
Ready for What's Next? Let's Talk!