Use nVoq and gain cost savings, clinician efficiency, while improving both quality and compliance.
Proven solution. Compelling ROI.
Reduce denials by Medicare/Insurers

Speed reimbursement and claims work

Improve documentation quality

Restore work-life balance and clinician satisfaction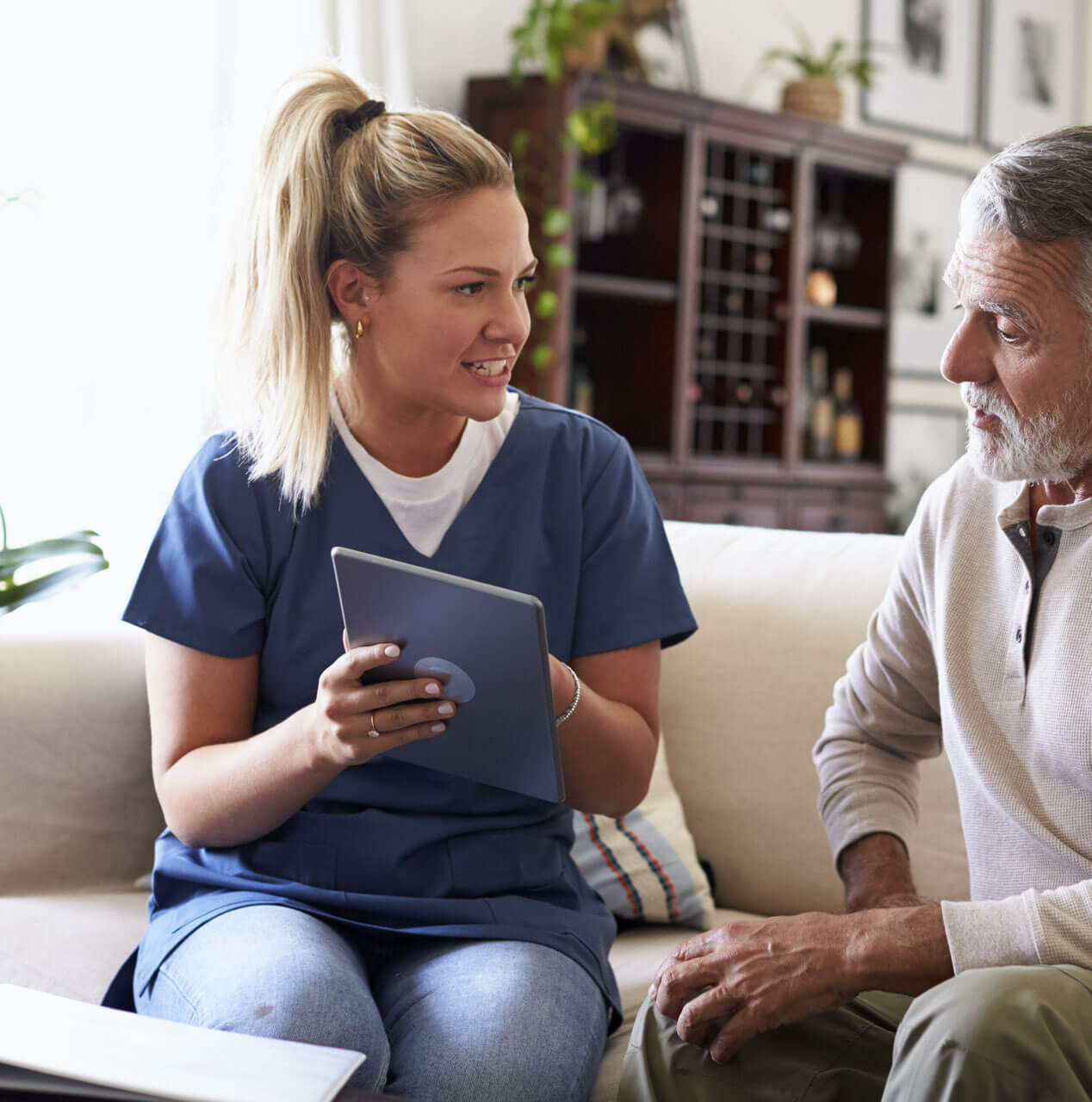 FASTER DOCUMENTATION
Improve sync times and drive faster care to cash outcomes. Reduce the documentation burden on clinicians.

Revenue Integrity and Efficiency
Higher quality and more complete documentation reduces denials and eliminates claims re-work.

Increase Clinician Satisfaction
Restore clinician work-life balance and gain an effective retention and recruitment tool.
The bottom line is you need complete and accurate documentation for every single patient. By simplifying the process, it's easier to get there. When people are charting at night, they're working over time, they're behind. In my experience, that's when the gaps occur. And one of the big motivators for me, as the CEO of this organization, is to set up the team for success, which means that they're going to help the organization be successful in its outcomes and its initiatives with compliance.
Quality and compliance are addressed at the point of documentation.
Reducing denials and maintaining revenue integrity means less re-work and costly delays. nVoq's speech recognition solutions enable higher quality narrative notes that are more detailed and capture more of the required information at the time of documentation. This is simply because telling a patient's story is so much easier than typing it—especially on a tablet.
Here's one example of how much the quality of hospice patient narratives improved with nVoq's speech recognition solution at Amedisys:



You can learn more about the results that were realized at Amedisys by reading the full Amedisys Voice Impact Study.
...what the physicians capture in their narrative is critical to every other aspect of what follows downstream with the patient record."
Calculate the ROI of Adding Speech Recognition!
Finally, a technology solution with a clear ROI!
How much can speech recognition save your organization?
The savings can be measured in dollars and minutes - and both are significant! Use our ROI calculator to easily estimate your savings by adding nVoq's medically relevant speech recognition solution to your clinician's workflow.
Thank You! We will contact you soon.
See results with nVoq Speech Recognition Solutions
Interested in learning more about speech recognition? Connect with us.
Annual Savings Realized: $[item-207_price]
Number of clinicians using nVoq Speech Recognition Solutions : [item-235_quantity]
National Average Annual Salary: $71,000
Assumed Burden Rate (e.g. benefits, etc…): 1.32
Productive Weeks per Year: 48
Hours Worked per Week: 40
Days Worked per Week: 5
Patient Visits per Day: 6
Reduced Documentation Time per Visit: 5 min.
Number of Clinicians using nVoq: [item-235_quantity]
Fully Burdened Clinician/Annually: $[item-210_price]
Cost per minute: $[item-211_price]
Minutes Saved per Week: 150 min.
Savings Value Realized per Week: $[item-208_price]
ANNUAL SAVINGS: $[item-207_price]
TOTAL MINUTES SAVED WEEKLY: [item-229_price]
Summary
| Discount : | |
| --- | --- |
| Total : | |
Before using speech to text to document care, our clinicians were typing hours' worth of documentation for our patients. Since our deployment, we've measured the time savings. On average, our clinicians are documenting admissions 30 minutes faster. Multiply that by the number of admissions a clinician documents in a day, and that's a significant time savings.
recruitment, retention, and satisfaction
Clinician satisfaction remains the top priority for post-acute agencies. The ability to improve work-life balance and positively impact recruitment and retention represents a big expense for every agency. There are a lot of short-term solutions that have unfortunately been poor performers over the long-term. This is because you need to solve the real challenges that the front-line clinicians face everyday. The number one cause of turnover is often linked to problems with work load, work hours, and work-life balance.
nVoq's speech recognition solutions help restore clinician work-life balance and return hours to your care teams every month. Less time spent typing, means more time for everything else.


The more productive your staff are, the happier they are, and you're saving money on orientation because there's less turnover.  Clinicians are able to see the same or more patients, and still have time at the end of the day to clock out early or work on care plans.
The case for voice recognition in post-acute care has never been stronger. Learn about the other impacts.
© 2023 nVoq Incorporated. All rights reserved.
nVoq Incorporated | 1790 38th Street | Suite 105 | Boulder, Colorado 80301 | Contact Sales 1-866-383-4502