---
Give your customers another reason to LOVE your EHR.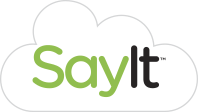 Works seamlessly with your EHR

---

NO INTEGRATION REQUIRED!
---
Dictate directly into fields – no cut and paste
---
Execute macros using simple voice commands or keystrokes
---
Automate "normals" – focus on the exceptions
---
Streamline screen navigation
---
Store custom vocabulary or acronyms
---
We support all medical specialties.
Our meticulous medical dictionary ensures we'll recognize even the most unusual terms.
Your customers deserve options.
Why limit their choices? 
Give us a try!
Here's why EHR vendors LOVE the nVoq

---

JOINT MARKETING PROGRAM
---
Joint Success Stories & Testimonials
Comprehensive Partnership Marketing
Cross-promotion
Connect with Certified SayIt Resellers
Videos!